Review from Irish Country Sports and Country Life Magazine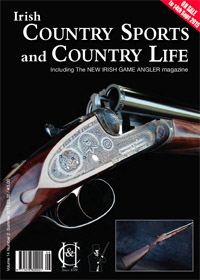 "The shooting produced by this drive was quite simply extraordinary.
With the blanking-in completed trickles of birds emerged with consistent regularity and at ever increasing height; powerful birds bent on crossing the lines of Guns to a wooded incline some way in the distance. Shooting was noticeably well spread amongst the Guns during the course of this protracted drive but the back line was presented with some particularly fine birds. The drive in full swing was an amazing spectacle and no visiting Gun could be disappointed. With the final horn of the day blown, the echo of gunshots gave way to the soft peeps of dog whistles from the pickers-up who were already engaged in the task of collecting the numerous fallen.
Smiles all round both from the Guns and Brian and his team alike.
This was quite the most superb day of driven sport the author has witnessed in some while. Judging by the demeanour of the Guns at the end of the day it was clear that it was for them too. It was a happy group indeed that retired to the shooting lodge for a sumptuous late-lunch, which seemed expertly timed with the arrival of everyone back at the courtyard."
I have shot at Drumbanagher at least 4 days per season for the last 10 years. This shoot consistently produces the very highest quality driven pheasants & ducks, which test even the very best of Guns. Drumbanagher's biggest assets are its great topography & its woods which the owner & Head keeper, Mr. Byrne, uses to great effect to present really challenging birds many of which must be described as exceptional. Drumbanagher is also a very welcoming and friendly shoot where all those involved in organising the day do everything possible to ensure a great day for the Guns. A proper shoot, exceptionally well run, I thoroughly recommend it.
Mr J Stephens
Drumabanagher is quite different to the wing shooting we do here in the States – it's simply amazing! I had been told what to expect by my companions but just wasn't prepared for driven shooting which was to come. I'm glad I was so well chaperoned by Brian and his team. I can honestly say this was one of the best shooting experiences of my life and I have pursued shooting sports in many parts of the globe. Everyone should try this.
Mr K A Brozowski
I shot 4 times at Drumbanagher last year and enjoyed every visit. The organisation of the day was excellent, lunch arrangements were plain but the food was good and most important of all the birds were excellent. By that I mean challenging but not out of range. We shot pheasants but ducks in large numbers were also available as an optional extra – good fun but the Guns needed to be discerning. The best drive is the Bulge and those in the middle of the line are in for a treat although they will need a swing in good order!
Mr D Agnew
Myself and a colleague attended Drumbanagher as part of a corporate day organised by one of my Irish business associates. Drumbanagher is simply an astonishing place. The hunting area is perfect and has superb covers. The concentration of birds was truly amazing. I wish I could have done them justice. I most definitely wish to return to Drumbanagher.
Herr F Disselhoff
Drumbanagher is an excellent shoot. The Owner/Keeper Brian and his team could not be more welcoming. The topography lends itself to good drives and if during your day you find yourself on number 3 or 4 pegs at 'The Bulge' you will really have a treat in store. The big wood-burning stove in the Gun Room is always kept as warm as the welcome, even on the coldest day. The atmosphere is friendly, with a bit of banter thrown in. A good lay out, good keepering and an understanding of what Guns need for an enjoyable day's sport. I have had some good days there and I can thoroughly recommend Drumbanagher to everyone.
Mr R Martin
One of the best shoots in Northern Ireland. I have shot at Drumbanagher every year since it started under current management. Brian and his team are a very professional bunch, they strive and produce very good days. The highlight for me was season 2009 to 2010 on a drive called Clay Park where I shot three of the finest high flying pheasants I have seen anywhere in the UK, an event made more special because it was witnessed by the entire line of guns. The final drive of the day is called the Bulge is always fast and furious and a fitting end to any driven shoot.
Mr T. Kells
We have had the pleasure of shooting Drumbanagher on several occasions now and it never fails to deliver on all fronts. The day is always a relaxed affair, run extremely professionally, showing challenging, high quality birds on all the drives, usually culminating with "The Bulge" a spectacular sight when in full flow! An epic Irish coffee or two ensure the day finishes and the evening starts as it means to go on. Thanks to all the beaters, pickers up and of course Brian for all of the special days we've had at Drumbanagher.
Mr A Walker
I have shot Drumbanagher for a number of years now and it's a place where I have made memories that are regularly recalled, whetting the appetite for next season.  Good company, good birds and good recollections.
Last season the two things that stand out were a particularly fine right and left at high pheasant taken by my fellow Gun and friend Alan, and the sight of a 10 or 12-point red stag crossing the field next to one of the drives after being stirred by the beaters.  The stag glanced at us once then entirely disregarded our presence as he moved slowly to quieter areas to find his herd. A very transient encounter and one that will be always be retained in my personal memory bank.
Dr T. Conway